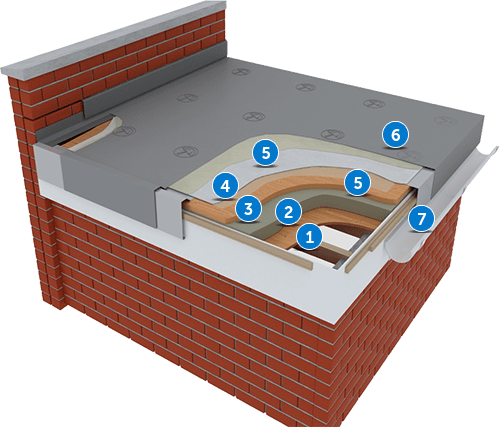 What Is a GRP Flat Roof And Where Is It Used?
GRP is traditionally "wet" laid, this process involves applying liquid resin to an 18mm tongue and groove decking board, before manually adding glass reinforcement.

Vapour check /18mm OSB3 deck

Insulation

18mm OSB3 deck

600g/m2 Reinforcement Mat

Roofing Resin

Topcoat Layer

GRP Edge Trim
Britelite Flat Roofing have perfected this method creating a tough and durable flat roof that will outperform and outlast any of their flat roof rivals.
Britelite have been in the business of transforming homes for more than 45 years, offering such high standards that in 2014 we were granted Which? Trusted Trader Status in recognition of our long standing commitment to quality and customer service.
---
Energy Efficient Roofing Solutions
GRP Flat Roofing
With the winter months rolling in and the nights getting colder a GRP Flat Roof coupled with the correct insulation can provide a low cost energy efficient solution keeping your house warmer in the Winter and cooler in the Summer. Providing an affordable energy efficient heating solution for your home and reducing costly fuel bills.
---
My Current Flat Roof System Needs Replacing
Not a problem, Britelite have a wealth of experience dealing with every type of domestic property. Our friendly expert team can advise you on the best course of action for your existing roof.
Badly installed or aging roofs can cause a variety of potentially disastrous problems in your property including rot, mould and damp which can cost a small fortune in repairs, maintenance and replacement!
We aim to provide a great value service that does not compromise on quality, offering a friendly, professional service from quotation to completion, right the way through the duration of your 30 year Britelite guarantee.
Pricing
We want you to get the best service possible, which is why we won't overwhelm you with confusing technical jargon, quotes and breakdowns.
Our first price is always our best price and that is our personal guarantee to you.
If you would like to find out more information about Britelite's certified Flat Roofing system you can call into one of our 7 stunning UK showrooms, located throughout the South East of England where one of our highly trained expert team members can guide you through our quotation, design and construction process to make sure you get the highest quality roofing solution built to suit your budget.
---
GRP Vs EDPM
A Glass Reinforced Plastic roof is one of the most reliable ways to weatherproof your flat roof and is often cheaper to install and lower maintenance than EDPM counterparts. GRP Roofing is also much easier to install than a EDPM alternative, meaning you can get back to normality in no time.
GRP roofing is now widely regarded as the most cost effective, practical roofing methods on the market.
---
Benefits of a GRP Flat Roof
Safer To Install


A GRP installation does not require the use of heavy machinery and in the case of our Synoseal system it does not require heat.

Strong & Durable


If installed using our tried and tested methods GRP roofing systems can last a minimum of 30 years, an added 10 years + of life on top of the current industry standard.

Customisable


A variety of roofing trims are available to suit the shape and style of your property.

Waterproof


Due to the fact GRP roofing systems have no seams they are 100% water and weather resistant.

Easy to maintain


Simply brush or hose your GRP roofing system to keep it clean.
GRP Roofing Systems Vs Traditional Felt Roofing
GRP roofing systems have completely changed the roofing industry, in our opinion for the better. Traditionally flat roofing was applied using an old fashioned felt roofing system. While some felt roofs were hard wearing and attractive on the whole they only had an average lifespan of around 5 years compared to the minimum of 30 years which can be achieved using Britelite's flat roofing system.
For around 80 years felt roofing has been sealed using bitumen however due to its adhesive properties and its extreme sensitivity to heat it could be unsuitable for installation on certain homes. Bitumen also required large amounts of heat to be used during installation. Sometimes this process resulted in the need to use both heavy and expensive machinery.
With a GRP roofing system like Synoseal no heat is necessary, meaning it is not only quick and simple to install, but also suitable for a wider range of homes, meaning we can provide high quality roofing solutions to a variety of properties which until now, did not have a viable roofing system.
---
Summary
We feel that it speaks for itself that more and more customers are choosing to opt for great value GRP roofing solutions instead of a more traditional felted system.
If you are looking for a new GRP Flat Roof to replace your current roof, you are in safe hands with Britelite's Flat Roof system.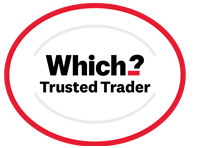 We are so confident in our fully BBA certified system, that we offer an impressive 30 year guarantee. That's an added 10 year bonus on the industry standard this is how confident we our that our GRP roofing is built to last, using only tried and tested methods backed by a wealth of experience we offer a buying experience like no other at a price to suit your budget.
Our customer service is also second to none, in 2014 we were awarded the prestigious Which? Trusted Trade Status in the Home Improvement sector, for our outstanding commitment to our customers and our dedication to quality.
If you are looking for a new GRP Roofing system whether domestic or commercial look no further than Britelite.
---
At Britelite your opinion really matters.
GRP Flat Roofing
At Britelite your opinion really matters, helping us to grow our reputation and provide the best possible roofing solutions for your home.
Check out some of our fantastic customer reviews and testimonials.
---
*Off our normal list price. Applicable to new quotations only and the discount cannot be used in conjunction with any other offer or building work. Terms and Conditions apply and available upon request. Authorised and Regulated by the Financial Conduct Authority.
---
We're Well Accredited